Kindergarten at CKS
Educational Environment
Students are welcomed daily by dedicated and caring teachers who provide individual attention in a nurturing learning environment.

Kindergarten at CKS is a well-balanced, full-day program. The foundations for learning and social interaction are developed over the course of the year in preparation for a successful transition into first grade. Our kindergarten program is a balance between academic, social and developmental needs of the five year old.
The Kindergarten Curriculum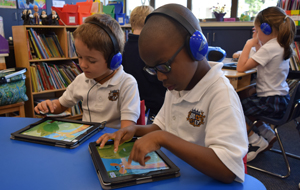 In Religion, students learn about God's creation and love on earth, in our families, and in our church. Catholic prayers and practices of our Catholic faith are taught throughout the school year. At Christmas, our Kindergarten students practice the gift of giving as they collect toys for disadvantaged children as a service project.

Christ the King School has adopted the Pearson Reading Street program for Language Arts. This research-based reading program incorporates whole group instruction supported through small group workshops in the core areas: phonics drill and practice, reading comprehension, and response and inquiry. Language Arts instruction lays the foundation for basics of the writing process. In the workshop sessions, students benefit from differentiated instruction and a review of previously taught skills and concepts. All Kindergarten teachers have received Orton-Gillingham training to assist in the teaching of reading. Kindergarten students at Christ the King School enjoy the added benefit of using iPads to support the curriculum.

Utilizing a multi-sensory approach, the Handwriting Without Tears program develops students' natural and automatic skills through directed instruction, workbook practice, and other writing opportunities.

The Kindergarten Mathematics program develops higher order thinking processes. Vital fundamental math concepts and problem solving skills are introduced and practiced daily in areas including sorting and classifying, geometry, patterns, numbers, graphs, fractions, addition, subtraction, money, time, measurement and counting to 100.

Social Studies in Kindergarten introduce the children to people and customs of their community, our country, and the world around them.

In Science, students experience the Father's loving plan for all creation through hands-on activities, experiments, discussions, and group readings. The students discover and learn to appreciate the beauty of God's creation as they learn about themselves, others, and our wonderful world. Our program nurtures children's natural curiosity as they explore the areas of earth, life and physical science.
Homework
Homework is an important part of Kindergarten. While primarily a skill-building activity to develop personal responsibility, Kindergarten homework reinforces and provides additional practice time for newly introduced concepts. The work is checked for completion but is not part of their assessment.
Assessment
Students are evaluated on a daily basis in Kindergarten through teacher observation and authentic assessments. In addition to the four quarterly skill-based report cards and three parent-teacher conferences, three progress reports are sent home throughout the year, ensuring that parents are fully informed regarding their child's progress. Newsletters are posted on PlusPortal each week informing parents of the upcoming academic week's focus and events.
Admissions Requirements
All applicants for Kindergarten must submit a completed application for admission and complete a screening process in order to be considered for admission to Christ the King School. The annual screenings are conducted in February for the purpose of helping the school ascertain if a child will meet with academic success at Christ the King School, and to determine if our program will meet the individual needs of a prospective student. Students applying for Kindergarten must have reached the age of five by September 1st of the enrollment year.