Spanish at CKS
In Spanish for Kindergarten through fourth grade, emphasis is on having fun and developing receptive and spoken skills through games, puppetry, songs, movement, listening comprehension activities, role plays, art and stories. Students in fifth through eighth grade Enrichment Spanish experience a preparatory course divided over four years, enabling the students to successfully continue Spanish language study at the high school level.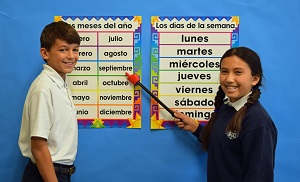 Kindergarten students use basic greetings, identify colors and shapes, use numbers to 10, identify things in the classroom, and talk about foods, the family, pets and community.
Pre-first students build on the Kindergarten curriculum with the award winning interactive BBC program, Muzzy. Pre-first students are able to describe themselves and others, identify various foods, talk about what they have, and use numbers to 20.
First grade students identify days of the week, classroom objects, places in school, rooms of the house, and more foods. Role play for first graders is "going to a supermarket."
Second graders continue developing listening and speaking skills with the introduction of Learning Systems A (The Wright Group). Students will be able to talk about things in a classroom, body parts, animals, feelings, seasons and weather, months of the year, as well as use numbers to 50.
Learning Systems B enables third grade students to build on their previous skills with expanded vocabulary and introduction of reading and writing activities. Themes include learning about the house, doing chores, playing, and numbers to 70.
Fourth graders continue Learning Systems B; themes include seasonal activities, fruit market, restaurant foods, numbers to 80, classes in school, and describing zoo animals.
Fifth grade students use basic vocabulary that will enable them to make greetings, use courtesy expressions, talk about the classroom and school life, tell time and talk about class schedules. Grammar concepts include the present tense of verbs estar, ser, nouns and articles.
Sixth and seventh graders continue to build on the previous curriculum; they are able to ask and tell time, express likes and dislikes, and describe people and places in the target language. Grammar concepts introduced at this level include Spanish noun/adjective agreement, pronouns, definite and indefinite articles and present tense regular and irregular verb conjugation.
Students at the eighth grade level study grammar topics and vocabulary necessary for the students to successfully continue learning Spanish at the high school level. The students talk about location, expressing feelings, food, family, clothing and shopping. Students also ask for and give information about people, make comparisons and describe daily routines. Basic grammar concepts mastered at this level include regular and stem changing present tense verbs, use of possessive adjectives and gustar with nouns.