Guidance Program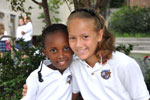 The comprehensive guidance program at Christ the King focuses on enriching the lives of students and families of the school. The counselor is committed to providing support for the personal, academic, social, spiritual and emotional development of each student.
Counseling Services provided include:
A wide variety of classroom guidance lessons taught at all levels
Academic support and planning in conjunction with teachers and the curriculum coordinator
Individual and small group counseling
Referrals for educational evaluations or other services
Parent and teacher consultation
Interpretation of various assessment results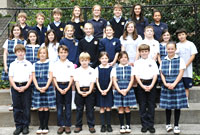 In addition to the services above, the counselor directs the Student Ambassador program for grades 2 - 8 in conjunction with the Director of Admissions. Student ambassadors are nominated annually by classroom teachers and are trained to carry the warm sense of community and CKS traditions to all new students. It is the goal of the Student Ambassador program that every new student starts CKS with a friend. Student ambassadors welcome new students by writing letters, hosting a party before the beginning of school and making sure that the new students feel comfortable with their transition to CKS. In addition, student ambassadors represent the school by participating in Open Houses and giving tours to prospective students.
Under the direction of the Counselor, Christ the King School participates in the Power Over Prejudice Summit at Georgia Tech. A group of ten seventh grade students attend each year and return to school and prepare an in-school follow-up program designed to increase awareness regarding issues of prejudice, discrimination, stereotyping and diversity among the student body.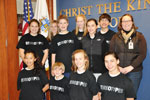 The Counselor organizes the Annual Career Day for 8th grade students during Catholic Schools Week. The students attend four career presentations in small groups and then reconvene to hear a panel of professionals discuss different careers and the journey that led each person to their respective professions. While some of the speakers for this event come from the greater Atlanta area, many are our own wonderful parents, past and present.
Other Duties Include:
Co-teaches Family Life with Religion teachers in MS;
Facilitates the Student Support Team (SST) for children having difficulties at school;
Assists in the admissions process for prospective students;
Manages the Iowa Test of Basic Skills (ITBS) testing; and
Manages the Second Step Curriculum.
The counselor works with all students to create a school climate conducive to confident learning.
"Through a comprehensive, developmental school counseling program, counselors work as a team with the school staff, parents, and the community to create a caring climate and atmosphere. By providing education, prevention, early identification and intervention, school counselors can help all children achieve academic success."

— American School Counselor Association