Art at CKS
At CKS, the Art Department embraces the idea that each child is already a unique artist upon entering the art room. The aim of the program is to nurture, appreciate and encourage creativity and skill development of the artist. The anticipated result is a very happy, expressive, immensely creative thinker, and capable artist.
Our main resource is Learning to Look and Create, the Spectra Program, by Kay Alexander. We also use other resources such as internet, art magazines, CDs, DVDs, and PowerPoint presentations. Lessons are designed to develop artistic skills, emphasizing expression, technique, and most importantly, creativity!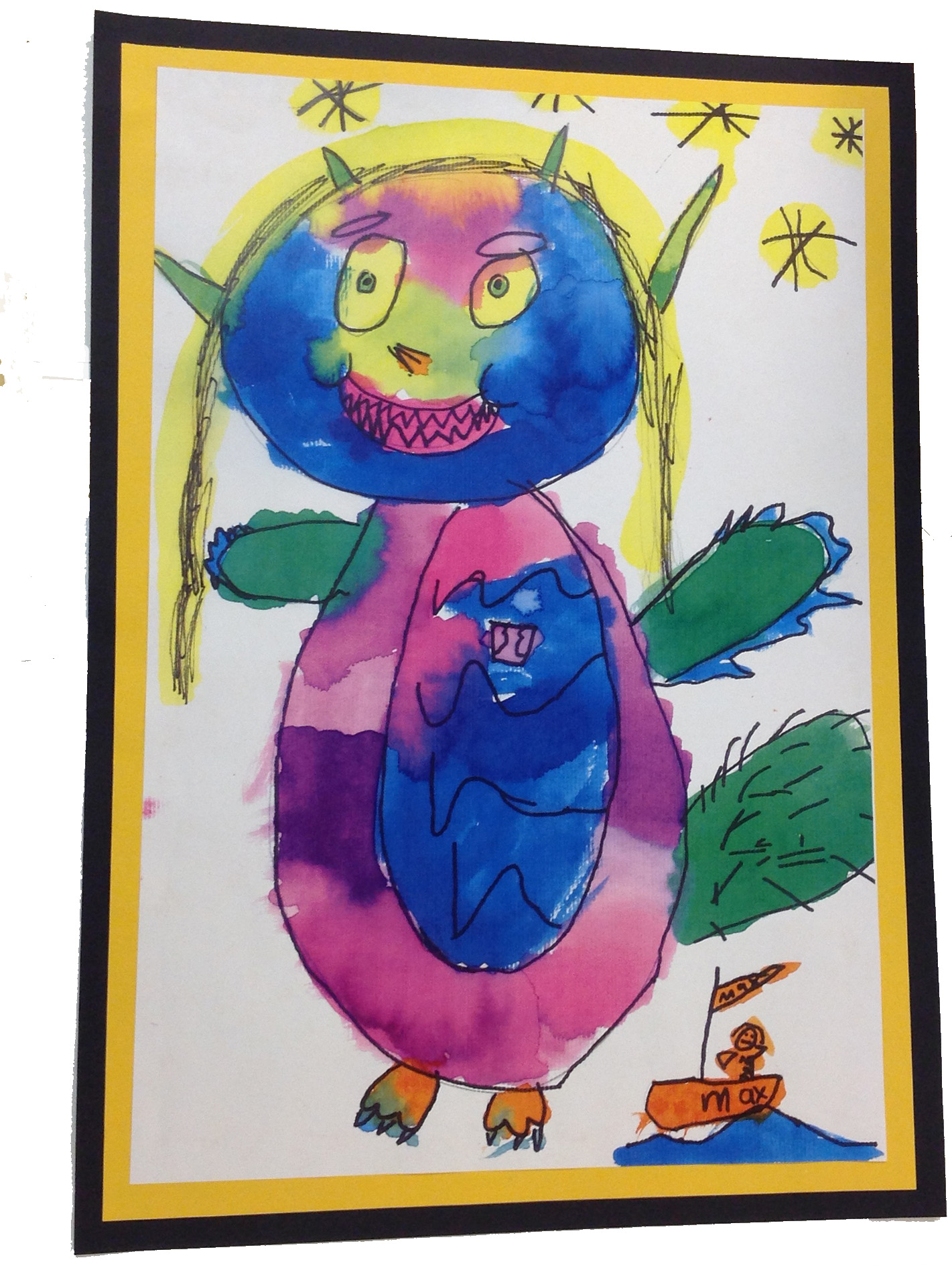 The Kindergarten and Pre-First art programs are an introduction to a wide variety of methods and materials, designed to provide students with an opportunity to develop fine motor skills. Students are encouraged to use their imagination in preparation for projects they will be experiencing in future years.

First graders study the work of Rousseau and Picasso. Students produce a Rousseau-styled self- portrait and a Picasso-styled family portrait. Before Christmas, each student creates a ceramic wreath focusing on different clay strategies. Students will create an origami house which emphasizes folds, lines and interior/exterior house design. In the spring, students work on a ceramic bird and simple paper weaving.
Second graders continue to build on skills. They study Matisse and Rembrandt, creating a Matisse-styled portrait learning the use of line, perspective, and colors and how to draw a human figure. For Christmas students create a mouse out of clay. After Christmas, they produce a universe scene emphasizing contrast on black paper with light drawing tools. The spring clay project is a ceramic animal of their choice. They will paint a crowd in the Rembrandt fashion as their final project of the year.




Students in third grade will focus on developing art skills through right brain drawing techniques and study the Cubism styles of Braque, Marc, Picasso, and Cezanne. Work includes an animal drawing and collage, pattern creation, a ceramic angel candle holder, an exercise in geometric forms (light and dark), oil pastel still life, and a fanciful imaginative fairy/elf house in clay.

Fourth grade expands on skills learned in earlier years. They study Kirchner and Van Gogh, produce a color wheel and then create an "emotional" Expressionism painting of a forest. Before Christmas, students will create a ceramic magnolia. For the spring ceramic project, students learn about geometric patterns, then create an Islamic-styled tile.

Fifth graders learn techniques from Audubon's work, and create a realistic bird using color pencil, oil pastels and watercolor. They will make a ceramic sconce for Christmas. In spring, students will study Victorian architecture and draw an ornate house, finishing the year with a ceramic fish wall plaque.

Sixth graders will learn geometry skills to create a circular grid, which will become a mandala. Students create symbols for hope, love, nature, universe and flame to add to their work. After a study of color theory, they will fill the mandalas with contrasting colors. The clay project for sixth grade is a ceramic mug.



The seventh and eighth grades experience a two year rotation of art activities. One year they concentrate on making a ceramic pot after a study of symbolism and clay techniques. Then they create M.C. Escher tessellations. The next year they study classical architecture and then create a ceramic columned archway with a human figure sculpture metaphorically depicting their life dream. Students will review "right brain drawing techniques" and do two self-portraits, one in pencil and one in oil pastels.