Physical Education is an integral part of the Christ the King School curriculum. The instructional program is designed to promote and encourage physical fitness, develop fundamental motor skills, emphasize safety, stimulate social and cognitive development, and encourage decision-making, problem solving, and cooperation. All areas are addressed within the context of a Catholic environment supporting the honor system and sportsmanship at its best.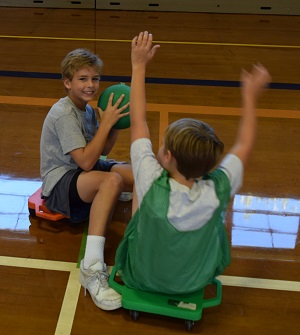 In P.E. students will be exposed to a wide variety of sports, skills, and activities. As a result students will have the necessary opportunities to refine their personal abilities and needs. Placing an emphasis on participation rather than on the development of the gifted athlete is a prime goal. The units of study vary greatly according to each grade's skill level.
In primary grades skill building in nonlocomotor and locomotor movement, physical fitness, rhythms and dance, and safety and cooperation are the main topics of concentration. Upper grades focus on building skills in all of the above areas, with the addition of using those skills in cooperative games.
Kindergarten, Pre-First, first and second grade students' activities include chasing, fleeing and dodging, locomotor and non-locomotor skills, parachute, fitness testing, striking, dance and rhythm, levels, spatial awareness, dribbling with hands and feet, gymnastics, kicking, throwing and catching, jump rope, and various games.
Third, fourth and fifth grade curriculum involves intro to volleyball, cup stacking, fitness testing, Pillo Polo, dance, crab ball, team handball, scooter handball, dribbling with hands and feet, intro to basketball, gymnastics, soccer, jump rope, aerobics, and fitness skills.
Third grade students learn about hygiene and healthy habits.

Fourth graders increase their knowledge of the human body in a unit on hygiene, first aid and safety. Students learn simple first aid for wounds as well as safety guidelines for the home and in emergencies.

Fifth grade students begin learning about Family Life through a presentation and follow-up class on maturation. To preserve privacy and modesty, students learn about changes associated with puberty in a class separated by gender.

Sixth grade students continue Family Life through a unit covering reproductive anatomy, conception and growth and development. This is taught in coordination with the religion unit and the week-long project using potato sack babies. As in all Middle School health units, this class is separated by gender.

Seventh grade students continue Family Life studies by exploring relationships, peer pressure and substance abuse. The teachings of the Catholic Church with regard to abstinence and chastity and the benefits of living a chaste life are also discussed in this class. This unit is supported by the Guidance Counselor.

Health for eighth grade students is devoted to healthy habits for the body. Treating your body as the temple of the Holy Spirit is a theme throughout this unit and also includes a short unit on nutrition with special attention to eating disorders.